Adding tracks to the play-list
To add tracks to your play-list, you can:
Type keywords in the search box
Select "Add Tracks to List..." in the "tracks" menu
Drag tracks from the Finder or from iTunes and drop them into Ask the DJ's window or into its icon.
Use Ask the DJ's integrated track browser.
Tracks are added to the bottom of the play-list.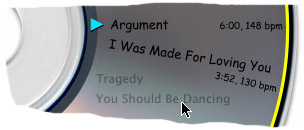 Notes:
Currently, Ask the DJ only supports mp3, AAC (.m4a or .m4p) and AIFF files with the following format: 16-bit stereo @ 44.1 KHz.
You can't add tracks from your iPod through iTunes. To do so, use the track browser instead.
Ask the DJ iPod Edition only accepts tracks from your iPod (use the track browser).